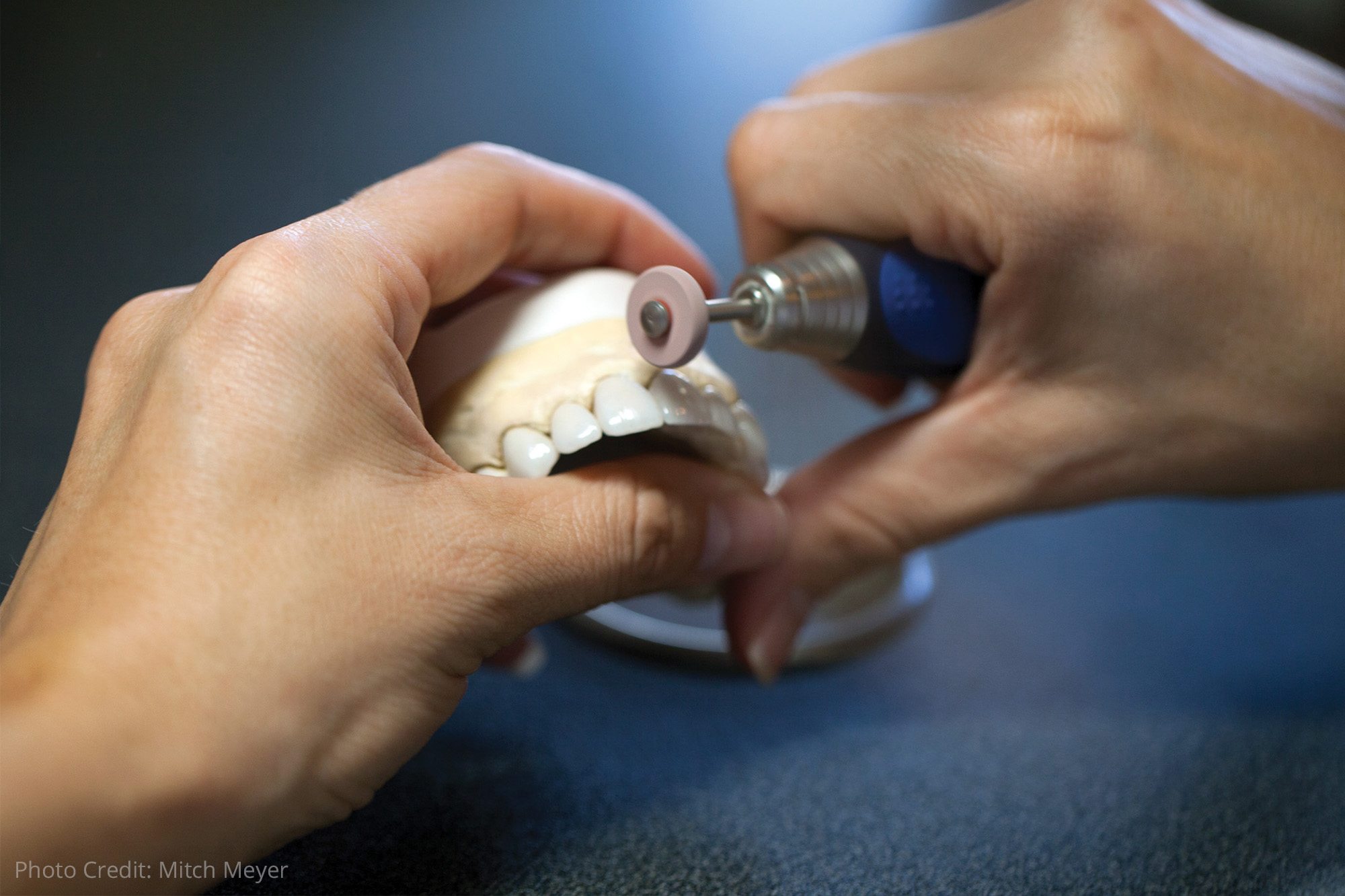 Dental restorations – including crowns, dentures, bridges and veneers – are custom medical devices that correct a range of oral health issues and provide an aesthetically pleasing appearance for the patient.
The creation of these products begins at diagnosis, when the dentist determines that a restoration is necessary for the patient. Dentists then take impressions of their patients' teeth for use as a template to fabricate dental restorative products.
If your dentist is recommending a dental restoration such as a crown, dentures, bridge or veneers you are entitled to certain expectations.  These are custom medical devices and you have the right to expect that your restoration will fit you well and look great.
When your dentist determines that you need a restoration one of the first things your dentist will do is to take impressions of your teeth for use as a template to make your restoration. While a handful of dentists employ dental technicians to produce restorations for their patients, usually the dentist will send the impressions of your teeth out to a dental laboratory to have your restoration made.
Unlike a pharmacy, where prescriptions are filled with medications that are shipped to the pharmacy, a dental laboratory actually custom makes your dental restoration. When the dental laboratory is finished making your restoration, the dental laboratory sends your restoration back to your dentist and your dentist places it in your mouth.
You have a right to be satisfied with the physical aspects – such as durability and hardness, biocompatibility – that it is comfortable and doesn't cause excessive irritation or an allergic reaction, and of course the aesthetics of how it looks.
Since so much of your final satisfaction will depend on good work by a quality dental laboratory and dental technician, you will want to ask your dentist the name of the dental laboratory that will be making your restoration, where it is located and how long it will take to get your restoration back if it is necessary to send it back to the dental laboratory to be remade or for any adjustments.
Also, you will want to ask your dentist how long they have been using the dental laboratory that will be making your restorations and whether the dental laboratory has any Certified Dental Technicians (CDTs) on staff or holds any lab certifications such as a CDL or DAMAS certification.
Click Here to Read the 4 Questions to Ask Before Your Next Dentist Appointment
There are many high quality dental laboratories.  However, most state have no regulatory requirements or standards for dental labs and since your restoration will likely be in your mouth for a very long time, asking your dentist these questions as early in the process as possible is very important as this may be the only way to obtain some assurance as to the quality of the dental lab that will be making your dental restoration.