Due diligence is key when selecting an intraoral scanner (IOS).
Value the importance of comprehensive, evidence-based evaluations to determine the most appropriate intraoral scanner for your clinical needs and practice style. Read the research, evaluate the technology, speak with colleagues and experience the different systems for yourself.
Below are some of the essential considerations as a roadmap for your process.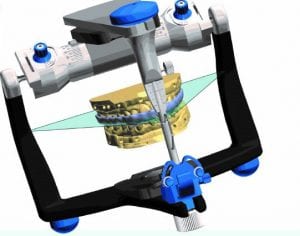 Identify what is motivating you to go digital with impressioning?
-Diagnostic tool
-Reduce overhead of consumables- impression material and trays
-Improve accuracy, communication and turnaround times from your lab
-Enhance the patient experience and tech savvy confidence
What other technologies have you incorporated into your practice?
-Digital radiography
-Practice management and paperless charts
-Automated patient communications and phones
Recall the learning curve experienced with the technologies and understand IOS will be similar.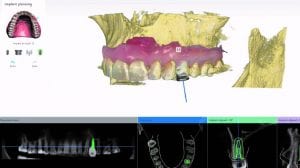 Investigate needs and files:
-Sending files to restorative laboratories
-Combine IOS scan with CBCT scan file
-Digitally, plan and design implant cases
-Shade matching capabilities
-Is it important to send files for orthodontic aligners?
-Is it important to use with an in office milling system?
Schedule Intraoral Scanner (IOS) Demonstrations:
-Important to physically hold the different scanning wands to look at ergonomics and comfort
-Each scanner has a different footprint. Wheeled carts, laptops, attachment to chair mount
-Envision the scanner in your operatory and accessibility to electric outlets, dental chair & evacuation. Which system will fit best in your environment?
-What type of preparation style do you prescribe? Shoulders and chamfers are required for success. Are you willing to change design if needed?
-Isolation and tissue management is required.  Laser, retraction pastes, and retraction cord all work well when utilized properly. Understand that unlike some impression materials you will need to achieve lateral and apical gingival retraction.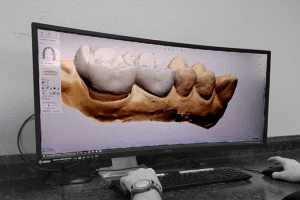 – Take advantage of training offered by the IOS Manufacturers.
– Identify a champion within your clinical staff. It is important to have a leader that provides excitement and encouragement to participants to be lifelong learners and see training as an opportunity.
-Utilize clinical trainers as a resource for tips and advanced scanning techniques and work flows.
Dental laboratories are a great resource and collaborative partner with you during your journey. Ask about clinical trainings via remote access to your scanner & chairside as those have proven effective for successful integration and adoption of new intraoral technology.
All dentists can realize the benefits from incorporating digital impression scanning into their practice. By partnering with a dental laboratory with digital experts, you have years of training and technical expertise available to you and your clinical team. We encourage you to be confident in your dental laboratory partner to assist you in incorporating your IOS investment into your practice.
About the Author:
Kelly Bevington, RDA, EFDA
Director of Intraoral Technology, Dental Services Group (DSG)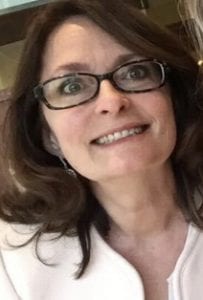 Honored to be a Dental Services Group team member for over 20 years. Comprehensive knowledge of dental laboratory technology. Having the good fortune to evolve through sales, marketing and most recently managing our Intraoral Scanner Training Team.  Personally, I have clinically trained over 500 dentists and their staff, dental students and AEGD residents on different IOS systems. Professionally trained on most major devices. Expert on digital scanning, tissue retraction/management and isolation that is imperative in obtaining digital impression scans for veneers, crowns and bridges. Strong focus on implant scan bodies, full arch scans and now incorporating removable prosthetics is not only exciting but also rewarding!
Working as a Registered Dental Assistant and in the dental industry for over 20 years has been a wonderful experience that I enjoy sharing with others.