Klaus Schwab, economist and Founder and Executive Chairman of the World Economic Forum, the International Organization for Public-Private Cooperation, authored a best-selling book entitled, The Fourth Industrial Revolution. In it, he explains that the fourth revolution is different from any previous revolution in scale, scope and complexity. This technological revolution impacts all economies, governments and industries and alters how humans live and work (https://www.weforum. org/agenda/2016/01/the-fourth-industrial-revolution-what-it-means-and-how-to-respond/).
Schwab reviews that the first industrial revolution used water and steam power to mechanize production, and electric power created mass production in the second revolution. Electronics and information technology that automated production brought on the third revolution. Now a fourth industrial revolution is building on the third, characterized by new technologies that blur the lines between the physical, digital, and biological worlds.
This fourth revolution, he argues, is distinct from the third revolution due to the speed of the evolution as well as the widespread impact. It includes breakthroughs in the fields of artificial intelligence, robotics, the Internet of Things, autonomous vehicles, 3D printing, nanotechnology, biotechnology, materials science, energy storage, and quantum computing.
His message includes ideas on how to adapt to these changes, empower people and ultimately shape a better future. It is encouraging to reframe the concepts of increased automation and rapid technological evolution as opportunity to create a better world, and not as a way to replace the humans that fill it. Yet as these changes and advances continue to spin how things are done, it is still to be determined what that future will look like. One way to help predict the future is to consider both the past and present.
Past
The inclusion of CAD/CAM and the cascade of progress that has happened since then marks the true start of the revolution in the dental laboratory industry. CAD/CAM opened a new door of innovation and progress this industry needed in order to survive and thrive. Artistic Dental Laboratories, Inc. CDL, DAMAS, Bolingbrook, Ill., started out with a Procera Mod50 making a couple of alumina copings a day, and now almost every product they make is in some way influenced or manufactured by CAD/CAM processes. Vice President of Artistic, Dan Ulaszek, CDT, said, "The digital revolution changed the industry. I have been amazed over the years not only by how these new processes have been integrated and further improved, but also how the science behind the materials progressed the quality and aesthetics of the materials so rapidly. It's truly been amazing to witness and lead during this time." Over the past decade, all ceramic products have captured a large portion of the dental market with monolithic zirconia becoming a regularly prescribed product. These changes in prescribing behavior created a race to the bottom for pricing as a selling point to capture business with clinicians. On the positive side, Jeremy M. Guidinger, Director of Growth & Digital Operations at Van Hook Dental Studio in Tempe, Ariz., remarks that dental resins for 3D printers increased in popularity, which enabled labs of various sizes to take advantage of the ability to offer new products and services. Over time, pricing on capital equipment decreased and allowed laboratories to reduce their overall reliance on outsourcing.
Present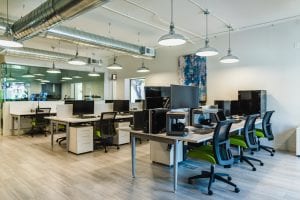 Van Hook Dental Studio in Tempe, Arizona
When reviewing the current day status, the pandemic brought its own mini-revolution to how labs operate. Rob Fletcher from Knight Dental Group CDL, DAMAS, in Oldsmar, Fla., has heightened their focus on disinfection of work coming into and leaving the lab. They've also taken extra efforts to sanitize work stations more diligently and have spread out the workforce out over a period of 24 hours. Van Hook Dental Studio also created staggered shifts for employees and technicians to safely work at a six feet minimum distance. In addition to social distancing measures, their team has incorporated daily cleaning of workspaces and frequently touched surfaces and maintained minimal vendor and shipping personnel entrances into their laboratory. Guidinger said, "Another modification that our laboratory has incorporated as a result of COVID-19 was PPE manufacturing for local hospitals and dental clients. During the onset of COVID-19, we swiftly altered our digital workflow processes to include 3D-printing and manufacturing of face shields, custom mask frames, ear savers, and nasopharyngeal swabs for testing." Since Artistic Dental Laboratory was a DAMAS and CDL lab, they had already taken steps to address their cleaning, disinfection, and safety processes. With COVID-19, they enhanced their measures with daily temperature and employee health monitoring.
Peak
Many have contemplated if the industry has hit its peak. With the multitude of changes that have taken place over the past decade, it is easy to conclude that it has. With the future of 3D printing, automation, and advanced materials, however, some would wager that the best is yet to come. Guidinger believes that the dental lab industry has yet to reach its peak, but is concerned that the market is becoming increasingly saturated with products that may or may not last throughout time. Yet he focuses on the growing demand for technology and connectivity from clinician to lab either for case communication or case design advice. "We have seen an increase in readily available industry information via webinars and online meetings due to the impact of COVID-19 on inperson tradeshows," said Guidinger. "Virtual information sharing will be a growing trend that will allow companies to focus more on their online presence and digital savviness to appeal to clinicians. Laboratories can also continue to advance innovation via partnerships and customer support with industry leaders like Carbon. These relationships will also encourage new materials to be printed and allow for more integration within the laboratory." Ulaszek on the other hand thinks that most of the iceberg has been revealed, but that there are still significant progressions that will continue to change the lab and the industry as a whole. He compares the current day fully digital dentures and partials to the zirconia crown back in 2009. The early zirconia crowns weren't pretty, but they were strong, costeffective, fairly easy to produce and satisfied a need the industry had while reeling from spiking gold prices. It also began a shift away from metal to the mindset of 'all ceramic all the time.' He concludes the same will happen in the future with 3D printing. "When 3D printing can mix multiple colors and translucencies to create a one-piece denture that comes out of a printer and direct to polish and delivery, and rivals a traditionally processed denture, I feel like we MAY have peaked," said Ulaszek. "But this industry has surprised me so many times; I expect and hope to be wrong on this."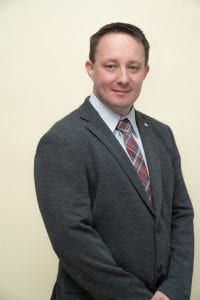 "The best way to be prepared for what's next is to go out and create it."
—Dan Ulaszek, CDT
Predict
Envisioning the future of the industry is both exhilarating and engulfing. As Schwab indicated in his book, the consensus is that automation and artificial intelligence will be accelerated in the future. Ulaszek underscores there will always be the need to understand function and anatomy, but presumes that most labs will start to resemble mass manufacturing, highly automated facilities. Single arm robots are already a presence at large manufacturing facilities, and will conceivably move into more labs. The efficiency of this automation will allow labs to grow larger without taking on much additional staff and will also in turn change the type of staff needed. IT and engineers will be more commonplace in the lab setting. There may be a large push with machine learning in either design functions or better case management and traceability. These advancements could have the potential to eliminate technical jobs within the laboratory, or alter the current job function landscape that a dental laboratory can offer. Connectivity will also grow with clinicians during design processing, especially for complicated cases, to allow for predictable results in the hands of experienced technicians. "I would love to see manufacturers that sell consumables look toward the future and change their business model to allow for open access for integration within the lab for milling products and printing," said Guidinger.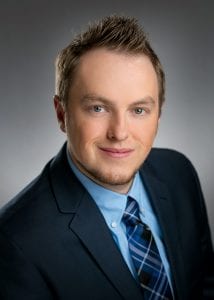 "Virtual information sharing will be a growing trend that will allow companies to focus more on their online presence and digital savviness to appeal to clinicians." —Jeremy M. Guidinger
Prepare
Is the next generation of technicians and lab owners prepared for what's ahead? Guidinger said, "This is a difficult question as we will continue seeing labs close due to the COVID-19 pandemic. With retiring baby boomers, our industry is also going to see a decrease in available and experienced dental lab knowledge. We will lose this knowledge if we are not able to capture it quickly and educate younger technicians. Our unique industry has the opportunity to prepare for what's to come simply by the amount of education available. Younger technicians have the benefit of advanced technology skills, but they also need to learn the fundamentals of the lab industry in order to craft successful products for our clinicians. "As an industry, we need to appreciate dental laboratory quality, service, and consistency. We can continue to create strong relationships with clinicians and support them in making their patient cases successful. The future of our industry is bright if we adopt new technology, innovate with unique materials, and train the future generation of aspiring technicians and laboratory personnel." In the end though, the only way to truly know the future is to head into it. "The best way to find out is to go there and see," said Ulaszek. "Honestly I have no idea what the future brings. All we have is speculation based on history and current trends. The best way to be prepared for what's next is to go out and create it. If the last 15 years in this industry has taught me anything, it's that we have an abundance of very smart, creative, inventive minds, and we are very adaptable. They say people don't like change, and fight it. But as far back as I can remember in this field we are always changing something. If you live in change it is much easier to adapt and change to what is needed at the time and not after the fact. Knowing this gives me hope that as a whole the dental lab will adapt and grow long into the future."
Reprinted with permission from the February 2021 Issue of the Journal of Dental Technology