Collaboration between dental laboratories and dental offices plays a significant role in the future of the dental industry. Advancement in digital tools has increased collaborative abilities via sophisticated dental technology and virtual communication innovations. There is no guarantee that patients will accept a treatment plan. Patients' reluctance to accept treatment is primarily due to their misunderstanding of the problem and its severity, however, digital tools can change this issue altogether. Collaborating helps make the scanning and impression creation process more manageable and efficient. Technology makes it more accessible, and sharing information helps improve outcomes even further. Furthermore, as technology drastically changes, having solid bonds with dental professionals will provide dental teams with the anchor to weather the change of our disruptive mode.
The relationship between the dental laboratory and the dentists' team is unlike most customer/vendor relationships, mainly in that their jobs are so interdependent; they need to work together effectively as true partners to succeed. The technician can only produce restorations that meet exacting standards if the dental team provides the information that can make that possible, and they must all be accessible and responsive to efficiently execute the treatment plan to the patient's satisfaction. The dentist, technician, and specialist partners who have achieved a well-honed working relationship prioritize accountability, high professional standards, and the latest technology to facilitate communication.
Dental health care teams provide various technologies such as digital scanners, intraoral cameras, CBCT, CAD/CAM, 3D printing, digital diagnostic treatment plans, and more. The problem is not the lack of technologies that can provide these new and innovative tools, but rather, not fully understanding or adopting the available ones.
Patients today have ready access on many social platforms as to what is available for their oral health. It is difficult, however, for patients to put the puzzle pieces together to know the best treatment. This is especially so in complicated cases after visiting several specialized dental offices. Research has shown that patients forget 30–60 percent of the information provided during in-office dental appointments. Digital tools and collaboration between dental specialists can help increase better oral health behavior by delivering adequate oral health education.
Multidisciplinary team collaboration provides a practical framework for treatment planning which equates to higher case acceptance from the patient. Let us face it, we are all wearing many hats and living busy lives. Each discipline needs documentation of their requirements and the timing of their part to complete the case successfully. Complicated cases require a methodology to stay on track. A comprehensive treatment plan from each specialist's expertise will aid in developing a treatment plan specific for the patient. The goals of the multidisciplinary team are to create a network of shared skills and expertise, allowing doctors, specialists, and laboratories to work effectively and efficiently and create open communication and trust. By developing an ideal treatment environment, patients feel comfortable and informed. If all parties are not in the same room from the beginning, they are not on the same page, leaving much room for error, problems, and remakes.
The key to success in patient acceptance of treatment planning is planning. The oral cavity is a susceptible area of the body. Even in pain-free situations, patient anxiety levels can be high. The dental team/patient relationship is the core of dentistry; it is a delicate partnership in which trust and confidence are all essential ingredients. The key to success is to start the process before the problems arise. Know what is possible, both physically as well as financially. Overlooking treatment or misdiagnosing can lead to a lack of or unnecessary multiple treatments.
There is a paradigm shift between dental principals. Dentists are becoming more technical, creating digital scanning impressions, milling crowns in their offices, and utilizing 3D printing.
Technicians are becoming more clinical, making surgical guides, creating digital diagnostic treatment plans, sleep apnea devices, and chairside implant denture conversions.
Specialists are becoming more restorative, placing abutments and temporaries and working with laboratories on surgical guides and digital diagnostic smiles.
With this paradigm shift, laboratories can create their future.
So, what are the underlying issues of our disruptive dental world?
Dental PRACTICES
1. Cost of doing business
2. Insurance companies
3. Dental capital groups
4. Dental franchise groups
5. Schools teaching fewer laboratory procedures
6. The pandemic
7. Race to the bottom
Dental LABORATORIES
1. Cost of new technologies
2. Laboratories shrinking
3. Dental technology schools closing
4. Hard to find qualified technicians
5. No requirements for certification
6. The pandemic
7. Race to the bottom
As in other disciplines in today's world, dentistry is disruptive. Collaboration, though, can help us move these underlying factors in our favor. Collaboration is also essential for dental laboratories to improve our profession. With the advancement in technology, we can control our future. Dental laboratories are critical to the success of dentistry and are both a science and an art. Materials and  craftsmanship are essential to being a great dental technician. Questions of the relevance of dental laboratories with the  everchanging technology are absurd when the possibilities are endless.
The history of dental laboratories is unique when considering the advancements in technology. The one constant is the lack of collaboration between peers and the insistence of certification and camaraderie. The uniqueness of laboratories is that we are not just manufacturing restorations; we are a health service providing specialized body parts to our dental clients and their patients. When we talk about the "Race to the Bottom," we must realize that our industry has created the race.
Service is the keyword. With change and disruption comes opportunity. With disruption comes education, and each discipline needs to develop its part of the puzzle to allow a seamless restorative delivery. Laboratories collaborating with dentists/specialists become an indispensable part of the team.
Digital technology has changed how dental teams and laboratories collaborate. Stronger relationships through collaboration deepen loyalty. As a result of globalization and technology, dental offices and laboratories can collaborate to build treatment plans that yield significant, efficient patient results.
Digital technology continues to evolve and lead to more incredible technology and software. Dental equipment, such as intraoral scanners, has dramatically improved; scans and restorations are more accurate than ever before. The scanning process is faster, with newer scanning equipment providing both color and stone images to enhance the identification and accuracy. Dental technicians can directly tell the dentist what information is missing in real-time. Open CAD/CAM systems are great for collaborating and helping combine skills to make ideal products through milling and 3D printing.
There are multiple ways laboratories can collaborate with dental teams, and several technicians can be involved, allowing more technicians to be included and keep them excited in their career choice. Here are some examples of how dental laboratories and dental teams can collaborate.
Implants – single esthetic zone/with surgical guide
Implant-supported dentures with surgical guide/chairside assistance
Periodontal reduction guide
Orthodontic spacing issues
Digital diagnostic smile
Implants — single esthetic zone/with surgical guide
Implant-supported Dentures with Surgical Guide/chairside Assistance
Periodontal Reduction Guide
Orthodontic Spacing Issues
Consult for veneers. Braces should not be removed until cuspid is extruded for gingival alignment and length. Lateral needs to be moved forward in alignment with arch. Otherwise, the case is compromised.
Digital Diagnostic Smile
Step 1 Scan maxillary and mandibular arches and send to the laboratory.  Dentist will scan full mouth and send to laboratory.
Step 2 Scan both sides of arch for bite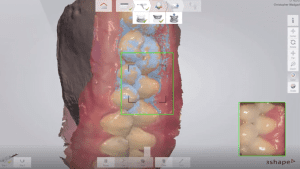 Combine digital diagnostic workup with pictures in cad software.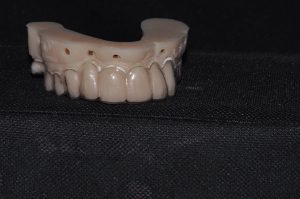 Once approved by the dental team and patient, make
a 3D printed model with vacuum form to be used for
temporaries. This will give a trial run before going to
the final. Tweaks can be made if needed.
Another case using the same collaboration system.
ABOUT THE AUTHOR
Lonni is the founder and president of Image Gallery, a Certified Dental Laboratory,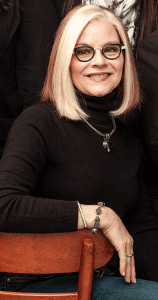 which started in 1979 in Columbus, Ohio. She opened the practice with two dentists
and a prosthodontist, becoming sole owner in 1987. Lonni's experience allow a unique
knowledge of the latest technological advances, combined with true artistry. Image Gallery
has been in the forefront of technology, always improving and staying on the cutting edge
of advances in dentistry. The digital revolution is no exception. Image Gallery started the
digital dentistry revolution 20 years ago and is now one of the leading laboratories in the
U.S. combining digital dentistry and artistry. Education, certification, and training are
extremely important to the Image Gallery's philosophy. After graduating and teaching at
The Ohio State University and Columbus State Community College, Lonni has continued
her journey of learning and acquiring at least 50 credits a year, supporting team members
to do the same.