(photo from Dr. Jerry Campo – Protea Dental Studio, Inc., DAMAS)
Dental Implants: What the Patient Needs to Know
By Leon Hermanides, CDT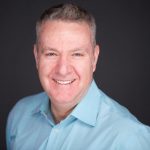 Implant Dentistry Overview
One of the fastest growing treatments in dentistry today is implant therapy. High success rates are being reported by dental practitioners and many dentists are gaining the knowledge and experience to successfully integrate implants into their dental practice. It is important for patients to know that an evaluation for the replacement of most missing teeth should include an implant site and cost evaluation.
Dental Laboratories and dental technicians often work behind the scene with the dentist and/or the specialist and are an integral part of the treatment process for patients. A thorough understanding of patients' anatomical limitations during treatment planning is essential, as is recommending and implementing the appropriate impression/transfer techniques, abutment design and restoration design.
The modern dental laboratory, armed with a dental technician with the appropriate knowledge, skill and experience is able to provide implant restorations in a financially, technically and esthetically predictable manner, delivering the highest standard of patient care.
Understanding Anatomical Limitations
The integration of implants in bone and the biologic determiners for dental implant success have become highly predictable, and as such, your treatment planning team can therefore spend more time and effort to give you a beautiful smile.
In order to improve the predictability of any treatment outcome it is critical to understand whether the patient's anatomy, bone and soft tissue, is favorable for esthetic integration. Dr. John Kois has noted that the patients' presenting situation is the most important factor in determining whether an optimum esthetic result can be achieved.
As every situation is different, it is important for the patient to realize that compromises to the way the teeth look may still occur.  Considerations that may compromise the symmetry of an attractive smile may include medical and/or dental history, gum, bone or existing teeth.
The Restorative Team
One of the most crucial elements for patients who are considering dental implants is the restorative team.  As a patient, it will be important that you have confidence in your dentist and/or specialist.  You should use a dentist that you trust and that has demonstrated competence in implant dentistry.
Additionally, you should know that there are other important people involved as part of your treatment including a dental laboratory and a dental technician.
Often times, it is the dental technician, not the dentist who will be working to create the crown or bridge that will attach to your dental implant.  Ask your dentist about the dental laboratory and dental technician that they work with and about their qualifications.  A trained and education dental technician will have a positive impact on your treatment.
---
About the Author
Leon Hermanides, CDT graduated from college in South Africa with a national higher diploma in dental technology, the equivalent of a bachelor's degree in the U.S. He has worked in South Africa, London and Seattle laboratories specializing in all stages of advanced reconstructions and anterior esthetics.  He is the owner of Protea Dental Studio, a DAMAS accredited dental laboratory.
Leon is a Clinical Instructor at the Kois Center. He currently serves as the Treasurer of the National Association of Dental Laboratories and is the Past Chair of the Foundation for Dental Laboratory Technology and the Past President of the Washington State Dental Laboratory Association.