By: Mark T. Murphy, DDS, FAGD
With apologies to President Abraham Lincoln.
"Three score and two years ago, our fathers brought forth on this continent a new concept called dental insurance, conceived from the medical model, and dedicated to the proposition that all should have access to quality dental care" …oops!
Dental "insurance", once intended to help patients afford quality care has not had an increase in benefits in over 60 years!  Someone forgot to index that to inflation; in 1955 gas was $.23 per gallon and a new Ford was under $2,000.   Upon inception, dental insurance covered just over $1,000 and remains at or near that level today.  With low deductibles and virtually NO similarity to other "real" insurances (medical, home, auto etc.) we should refer to "dental insurance" as a convenient maintenance plan.  The working definition of INSURANCE is 'when a third party provides coverage against a catastrophic loss'.  There is nothing catastrophic about the dental benefit annual maximums!  Total your car, spend the night in a hospital or have your house burn down and you will see catastrophic coverage in action.
Dentists did not go to business school and often must have costs to maintain the status quo.  Lower dental coverage and reimbursements mean looking for lower cost products and services.  Look for a dentist who works with a dental laboratory that is certified and/or uses the best materials, techniques and manufacturing standards.  Ask what's in my mouth?  Our first President really did have carved wooden dentures with various types of teeth in them.  Perhaps if George had real insurance and asked that question he would have had implants instead!
Editor's Note: Do you know what to ask your dentist? Read what four questions to ask your dentist here. 
---
Mark T. Murphy, DDS, FAGD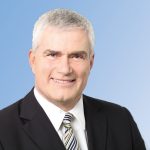 Mark is the Lead Faculty for Clinical Education at ProSomnus Sleep Technologies, Principal of FunktionalTracker.com, serves on the Guest Faculty at the University of Detroit Mercy School of Dentistry and is a Regular Presenter on Business Development, Practice Management and Leadership at the Pankey Institute.
He has served on the Boards of Directors of the Pankey Institute, National Association of Dental Laboratories, the Identalloy Council, the Foundation for Dental Laboratory Technology, St. Vincent DePaul's Dental Center and the Dental Advisor.
He lectures internationally on Leadership, Practice Management, Communication, Case Acceptance, Planning, Occlusion, Sleep and TMD.  He has a knack for presenting pertinent information in an entertaining manner.