By: Heather Voss, CDT
Not happy with your smile? Are there a few things that you would like to change that make you feel self-conscious about smiling?  Gaps in your teeth, stained teeth, crooked or badly shaped teeth?
Veneers, for example, are a great option for many dental patients. Custom-made shells crafted of tooth-colored materials are placed on the front of the teeth. Creating a veneer as thin as a contact lens requires special skill and expertise so veneers are crafted in a dental laboratory by a dental technician following a model provided by your dentist.
However, it's usually necessary to remove a portion of enamel from the teeth to accommodate the shell, so veneers have historically been an irreversible procedure which has been a deterrent for some patients who don't want their natural teeth ground on or altered significantly and with good cause.
Tooth enamel is the thin outer covering of the tooth and the strongest substance in the body. It's what makes your teeth white and it exists to protect the crowns of healthy teeth. Enamel thickness varies depending on the tooth. On a front tooth, the enamel is around 1.5mm's thick at the thickest point, thinning out as you approach the gum. Enamel is the hardest substance in your body.
That thin 1.5mm thick wall is all that keeps the bacteria from eating up the much softer dentin layer under the enamel. That is why it is so important to maintain that enamel layer to protect your teeth and keep them healthy and stable.
But these days a new type of veneer is being used — the minimally invasive porcelain veneer. These veneers are very thin and designed to cover the surface of the teeth to which they are applied. Tooth structure is left intact and only altered when necessary.
"Minimally invasive veneers help patients conserve their enamel, which is a big attraction," Dr. Eugene L. Antenucci of the Academy of General Dentistry said in the November 2007 issue of General Dentistry. "minimally invasive porcelain veneers are highly esthetic, and can be expected to offer years of wear."
Masking mild to moderate tooth discolorations, correcting minor misalignments and rotation of anterior teeth, and re-shaping peg-shaped and undersized teeth are just a few of the improvements minimally invasive porcelain veneers can provide, according to the AGD.
No one dental treatment is perfect for everyone, so patients considering veneers should talk to their dentist about the available options and undergo a comprehensive clinical examination that includes an esthetic evaluation. Another key component to successful treatment is working with a Certified Dental Technician (CDT)  and or Certified Dental Lab (CDL)  to make the veneers.  Their training, experience and dedication to quality standards plays a critical role in the long term success of the veneers.
All Photos by Heather Voss, CDT:  © Legacy Dental Arts
---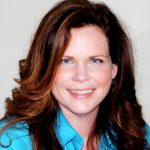 Heather A. Voss, CDT, owns and operates Legacy Dental Arts in Hamburg, NY. She is a second generation dental technician and has been in the dental laboratory technology field for over 25 years. She is an LD Pankey graduate and a LVI certified master esthetic technician. She has been published in various clinical and technical journals and has lectured for both dental technicians and clinicians throughout her career. Her experience working in small family owned labs as well as large privately owned and corporately owned labs has given her unique insight and expertise in the technical, production and business management aspects of the dental laboratory business. Heather is the 2017 Chair of the NBC Board of Trustees.