There is a Big Elephant in the Room
Lonni J. Thompson, CDT
Unfortunately, the relationships between dental technicians and dentists are not team building experiences. There seems to be an "elephant in the room" that isn't addressed; why are dental technicians not considered part of the dental team? We will be exploring some potential contributing factors such as technology, costs of doing business and lack of certification.
Technology is changing dentistry rapidly. Dental laboratory costs have changed dramatically moving from analog to digital. The paradigm shift is changing the workflow of services provided and businesses managed. Technicians are becoming more clinical as new services are offered, such as surgical guides, sleep apnea devices and digital smile designs to name a few. Dentists are becoming more technical with digital scanning impressions and milling their own crowns. Specialists are becoming more restorative clinicians, placing abutments and temporaries to sculpt tissues to preserve the oral environment, and looking at the bigger picture of where we place restorations and implants and then planning backwards.
Dental practices have also dramatically been impacted by the costs of doing business; dealing with dental insurance companies, dental capital groups and dental franchise groups. In general, third parties are inclined to present dentists as the "provider of a commodity" rather the provider of a healthcare system. As a result, practice overhead has risen substantially. This has put pressure on dental practices to seek reduced laboratory fees leading to what is being called the "The Race to the Bottom" which leads us back to the angst relationship between dentists and technicians.
The laboratory industry is shrinking at an alarming rate. Many laboratory owners are baby boomers and will be exiting the industry in the next five-to- ten years. Many are not able to afford the digital processes or find the time to learn the new processes. Dental technology schools are disappearing, causing a lack of qualified technicians; dental schools are no longer teaching laboratory procedures. Consequently, dentists don't necessarily understand the laboratory procedures or newer materials, and laboratories don't understand the clinical side. Thus causing a huge disconnect between the technician and the dentist.
The current relationship mindset disadvantages everyone, especially the end consumer, "The Patient." We are not making widgets, we provide the dentist with a medical device that impacts patient health. This is what is lost in the ill-conceived dentist-laboratory relationship. Ill-conceived relationships foster a lack of accountability. With the current relationship model, accountability is nonexistent allowing laboratories and dentists to be at risk. Dentist have no idea, by merely looking at a restoration, if the material they prescribed is actually being delivered. Implants are one of the fastest growing segments in dentistry. How does a dentist know if the proper parts are incorporated in their case? With the "Race to the Bottom" mindset people have a tendency to become "bad actors." With no accountability or ownership, the end consumer could be at risk. The dentist moves on to another laboratory and the laboratory moves on to another dentist. The cycle continues with unfulfilled expectations and possible risk to the patient.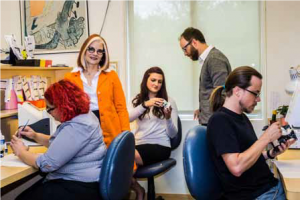 What if this relationship could change? What if the dental technician is actually treated as part of the interdisciplinary dental team? What if patients could be assured their medical devices were made by a Certified Dental Technician?
Legislation doesn't solve all of these risks. It is a start, however, by providing professionalism to the dental technology industry. Legislation could provide some accountability or ownership to dentists, technicians and patients.  Education is essential to providing medical devices properly designed and manufactured by certified technicians to improve the health of patients. All segments of the dental team are required to have some form of license, certification or registration. It is inconceivable that in managing our current challenging dental environment that the dental technician is not required the same accountability. It is also inconceivable that dentists wouldn't want the technician providing their medical device not to have the education needed to manufacture this device for their patients.
Why are the majority of state dental societies fighting the dental laboratory industry to better themselves and improve the dentist-laboratory relationship gaining only quality dental care for their patients?
Let's open this discussion; let's talk about the "Big Elephant in the Room." This subject has been explored and put on the back burner for decades. Email me your thoughts and we will continue to explore why registration is important for improving the mind-set of dentist-laboratory relationships.
---
Lonni J Thompson CDT is founder and owner of Image Gallery in Dublin, Ohio. This year Image Gallery celebrates 40 years of business. She is the President of Ohio Dental Laboratory Association working on Registration in Ohio. Lonni is also a board member for NADL and is on the Advocacy Committee working on Registration nationally. She can be reached at lonni@imagegallerydublin.com or call 614-889-2311.