We've come a long way since the mid 1980's, when a Sleep Apnea appliance involved your tongue being held forward, protruding through your lips, and out of your mouth, all night long! Today's appliances are smaller, sleeker, lighter, stronger, more adjustable, more biocompatible, more accurate, and more comfortable. This article hi-lights just how far we have come since the first Tongue Retaining Device (TRD).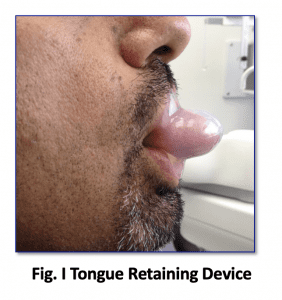 Currently, there are many dozens of oral appliances approved by the FDA to manage snoring and sleep apnea, some literally knockoffs of other existing appliances, and others quite novel and unique in design, with interesting proprietary features. The newest generation of appliance development has involved the Computer Assisted Design|Computer Assisted Manufacturing (CAD|CAM) environment. CAD|CAM allows for quick innovation, implementation and revision, providing a meaningful advantage over developing an appliance in an analogue environment. In addition, CAD|CAM 3-D Printing allows appliances to be printed out of very strong, bio-compatible materials like Type 12 Polyamide Nylon and CAD|CAM Milling machines allow appliances to be milled out of strong Polymethyl Methacrylate (PMMA). Recent innovations in this area include the milling of a soft-liner, increasing patient comfort dramatically and most recently, the milling of new proprietary MG6™ medical grade material that is as strong as PMMA, but with increased elasticity, which also increases patient comfort.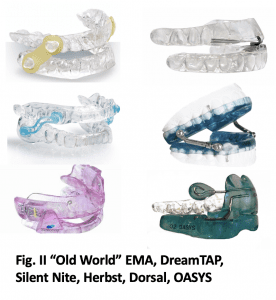 Analogue appliances have not fallen behind regarding technological advances. Very thin thermoplastic materials have been developed that are not only comfortable to wear but can be easily modified chairside to fit around new restorations and/or to increase retention. I like to think of analogue appliances as "Old World" appliances, hand made by a dental technician, but using modern dental materials our grandfathers could only dream might be available someday. The digital world of course holds many advantages, but who doesn't like to listen to an LP on a turntable now and then? Truth is, there are a number of excellent "Old World" appliances with unique and desirable features. This list includes the DreamTAP, OASYS, Herbst, Dorsal, Silent Nite and EMA.
"New World" appliances first appeared in North America circa 2012, when ResMed brought the 3D Printed Nylon Narval CC over from France. Since then, ResMed's Narval CC has left North America, but has been replaced by the folks that wrote the original software that was used to create the Narval CC. Panthera refers to their device as the Digital-Sleep Apnea Device (D-SAD), think of a D-SAD as a very enhanced version of the Narval CC! Panthera has listened carefully to their end users and placed a great deal of effort in their Research and Development. Very recently, Panthera has also introduced the very first 3-D Printed Nylon Dorsal appliance, the Panthera X3. Another novel 3D printed Nylon appliance worthy of mention is the Optima Oventus, which has a unique breathing channel, designed to hold a PEEP Valve, that helps to maintain a positive airway pressure when exhaling through the mouth.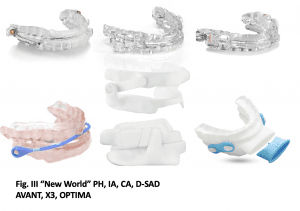 CAD|CAM milled PMMA appliances are also becoming quite popular, ProSomnus provides a number of different versions including their version of a Herbst (PH), a Dorsal (CA and CALP) and their flagship, the Iterative Advancement (IA) appliance. Very recently, ProSomnus announced their EVO appliance, which is milled out of a new proprietary MG6™ medical grade material, the strength of PMMA but more flexibility, increasing comfort. The OPTISLEEP is a very sleek PMMA milled appliance that utilizes stiff "EMA Like" straps to advance the mandible. Finally, being a competitive field, a number of other labs have also introduced various generic versions of Herbst and Dorsal Milled PMMA appliances.
This past year, SomnoMed introduced the first CAD|CAM Milled PMMA appliance that has a soft liner. But not only a soft liner, a CAD|CAM Milled soft liner! Yes, the appliance goes through the milling process twice, once for the PMMA hard shell, and once to mill their proprietary SMH BFlex soft liner material, all resulting in a very sleek PMMA appliance, that has the feel of a pillowtop mattress! What makes this SMH BFlex soft polymer so special is that it is manufactured from a PMMA material, ensuring not only durability, but also a perfect bond to the PMMA hard acrylic that will not delaminate.
My, we have certainly come a long way since the original TRD! The innovation continues, making Dental Sleep Medicine more exciting than ever. With sleep apnea on the increase, consider either getting involved, or stepping up your efforts, your patients need you more than ever!
About the Author: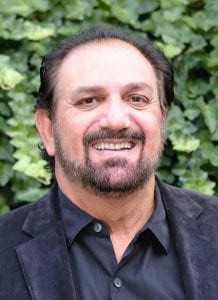 Dr. Viviano obtained his credentials from the University of Toronto in 1983. His clinic is limited to managing sleep-disordered breathing and sleep-related bruxism. He is a Credentialed Diplomate of the American Board of Dental Sleep Medicine and has lectured internationally, conducted original research, and authored original articles on the management of sleep-disordered breathing. His clinic is the first Canadian facility accredited by the American Academy of Dental Sleep Medicine and he is Clinical Director of the Sleep Disorders Dentistry Research and Learning Centre. Dr. Viviano also hosts the SleepDisordersDentistry LinkedIn Discussion Group, conducts dental sleep medicine CE programs for various levels of experience, including a 4-day mini residency and administers the SDDacademy.com Online Learning Platform. He can be reached at (905) 212-7732, John@DrViviano.com  or via website sleepdisordersdentistry.com.